We had the
Italian-Style Shepherd's Pie
last night. This is a great meal for four with a bit left over for lunch the following day. I'll describe the steps I took to make this dinner. Experienced cooks might find parts of this explanation a bit pedantic, but it's important to remember that not everyone is completely comfortable or intuitive in the kitchen and some of us need a bit more hand-holding. There's absolutely nothing wrong with that! There were many holes in my culinary knowledge base when I first moved in with my new family and I roved the internet for hours on end looking for inspiration and ideas. That's pretty much the point of what I'm doing here. So on with the dinner…
Do this stuff first!
The first thing I do when I'm cooking anything, but especially a first-time recipe, is go through the list of ingredients and make sure I have sufficient quantities of everything I need. There are few things as frustrating as having a dish halfway cooked and then realizing you don't have something the recipe calls for, so take the time and get it right before you start. Once I'm sure I have all my ingredients together, I do all the chopping and measuring first. As you can see in the photo above, I chopped all my veggies ahead of time so they would be ready to add exactly when I needed them.
The heat is on
Once all the ingredients were properly chopped and measured, I put the meat, onions, carrots and spices in a skillet to cook for about 5 minutes. The recipe calls for seasoning salt, which isn't available in Scotland, so I cobble together my own little mix of spices that's a bit different every time: salt, a couple of dashes of cayenne pepper, garlic salt and cumin. This blend doesn't resemble actual seasoning salt, but it seems to work well in all of my dishes. Once the meat browned evenly, it was time to add the last ingredients to the filling.
A fine filling
For the final step of preparing the filling, I added the mushrooms and a 350 gram (14 oz. is fine) jar of tomato and basil pasta sauce. You can add whatever kind sounds good to you. As I mentioned in the earlier
menu planning post
, I use real mashed potatoes in this pie, as it's more economical than using the flakes, not to mention MUCH healthier and better tasting. It requires a bit of extra work, but it's well worth the effort. I dropped 6-8 medium peeled potatoes into a pot of boiling water just before I chopped up all the veggies. While the filling mixture simmered away, I mashed up the potatoes.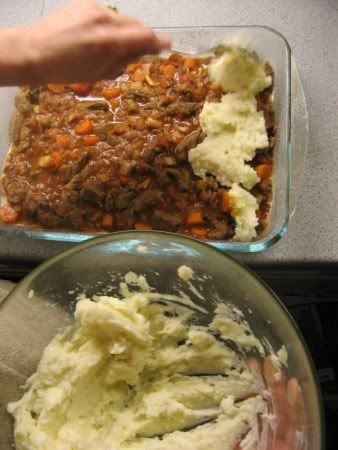 A fluffy layer of mashed potatoes to top it off
The dish is nearly ready to pop into the oven! I poured the filling into a 13x9 casserole dish and then spooned mashed potatoes evenly over the top. If you don't have enough mashers to coat the whole dish, don't worry. You can try spreading the potatoes a bit thinner, or even leaving a hole in the middle! Remember, the recipe only calls for 8 dollops of potatoes around the edge. I just like to coat the whole dish for aesthetic reasons and to keep more moisture in the pie while it cooks. Plus, it increases the potential for leftovers. Once the dish has been coated in potatoes using whichever style you choose, sprinkle a thin coating of parmesan cheese over the top, place it in a 375° (190°C or gas mark 5) oven and check it after 25 minutes.
Italian-Style Shepherd's Pie, finito!
If the top has turned a nice golden brown with maybe a little crust forming on the side, your dinner is ready. The thing I love most about this Shepherd's Pie and other dishes of its ilk is that they are one-pan meals. It has veggies, meat and potatoes all in one casserole dish, which means less fuss in the kitchen overall and not as much washing up to do at the end of the meal. Plus, veggies seem to go down easier with kids if they are part of a dish rather than their own side. So it all adds up to a winning dinner in my book. The family gave it high marks, too - an all-around good dinner.